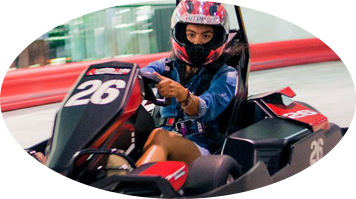 Hen Go Karting Carlingford
Do you feel the need for speed or like to feel the wind in your hair? Which ever you prefer Go Karting is a very popular activity especially with groups! You will be competing with each other in order to win bragging rights! You will start off with a practice lap, then you will be going straight into the real competition! Beat all the others in the different heats in order to be crowned the champion!
From Only €50 per person
If you can't figure out what activity to choose why not go with go karting its exciting a bit of healthy competition between the girls and whoever comes lasts drinks are on them. Once you arrive at the go karting centre, you will be provided with safety gear such a s a helmet and over all's. In addition to this you all will receive a full safety talk from an experienced professional who will make sure that there is no hiccups while you are there. Once the boring part is over (it is important so listen up) its time then to jump into your go karts and have some fun.
There will be a grand prix competition which will lets you compete against your mates, you will get a practice lap to warm up and then its into the fun part of the race heats, quarter final, semi-final and of course the most important and exciting the FINAL.
There will be prizes for the winner and runners up. So, girls if you want some fun packed and Adeline filled this is def the activity for you and your hens.